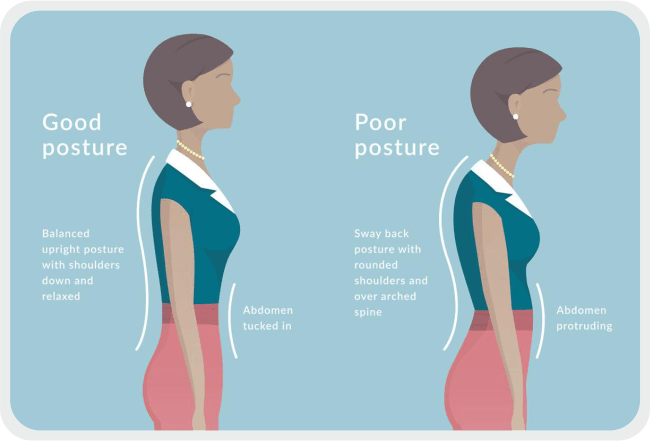 AktivBalance: Posture & Gait Analysis Program
A basic posture and gait analysis provide information about the body and the capability of the musculoskeletal system to adjust to physical stressors. An understanding of normal gait and posture analysis is essential for identifying and treating musculoskeletal pain.
Causes:
There are different factors which can impact on posture and they include:
Biomechanical factors such as poor muscle tone reduced muscle strength
Previous injuries, disease
Psychosocial factors such as job stress and strain. Workers who have higher job stress
are more likely to develop neck and shoulder symptoms.
5 most common biomechanical issues which lead to postural problems are:
1: Over-Pronated Feet:
Over-pronation or flat feet adds stress to the foot, tightens calf muscles, and can internally
rotate the knees. Over-pronation often leads to Plantar Fasciitis, Heel Spurs, Metatarsalgia, Post-tib Tendonitis and/or Bunions.
Cause – Obesity, pregnancy, improper footwear, or repetitive pounding on a hard surface can
weaken the arch leading to over-pronation and oftentimes flat feet.
2. Forward Hip Tilt (Anterior tilt):
Forward hip tilt or Anterior tilt is associated with tight hip flexors, which are a group of muscles on the front of your hips that pull the knee upward. As we walk, tight hip flexors prevent the glutes (butt muscles) from firing/activating, which forces the hamstring muscles to become overworked and excessively tight.
Cause – Sitting too much and not stretching, which shortens the hip flexors.
3. Hunchback:
Sitting hunched over a computer screen forces chest muscles to tighten, which can cause excessive curvature (kyphosis) of the upper back (thoracic spine). Postural muscles in the upper back weaken and loosen which alters the posture.
Cause – Sitting with bad posture, especially at an office doing computer work.
4. Rounded Shoulders:
Sitting hunched over a computer screen forces chest muscles to tighten, which can internally rotate the shoulders forward. The "Pencil Test" involves holding a pencil (or pen) in each hand. As shown in the picture, if the pencils are pointing straight forward with the arms comfortably by the sides, that indicates correct posture. If on the other hand the pencils are facing each other, or are rotated at an angle, then the shoulders are internally rotated.
5. Forward Head:
As shown in the picture on the right, see the AC joint (bony protrusion on the side of the shoulder) and check if the ear lobe is on top of the AC joint. If the ear lobe extends in front of the AC joint, it is Forward head. Muscles in the back of the neck become tight, along with the upper trapezius and levator scapulae (upper back muscles).
Cause – Sitting in an office chair hunched over while staring at a computer
Symptoms:
Slumped, hunched, or rounded shoulders, protruding abdomen, swayback (an excessive forward curve in the lower back), the caved-in appearance of the chest
Bent knees when walking or standing
Potbelly
Back and neck pain, headaches
Treatment:
Ergonomics correction
Correction of body mechanics
Joint mobilization/manipulation
Soft tissue mobilization
Stretching/flexibility exercises
Muscular strengthening and endurance exercises
What is AktivBalance Program?
AktivBalance is a specially-designed program at AktivHealth which addresses the issues of falls in the elderly and treats balance-related abnormalities. We have a team of well-trained physiotherapists who, with their evidence-based approach, not only help in early diagnosis, management and rehabilitation to prevent falls but also contribute towards your body's overall well-being.
Management at AkltivHealth :
At AktivHealth, we follow a three-stage approach in our treatment plan for balance loss and fall prevention.
Comprehensive Assessment
Exercise
Diet