Overview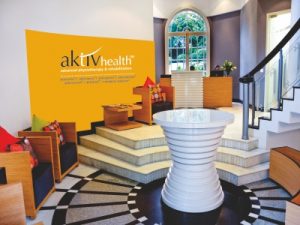 AktivHealth (formerly known as AktivOrtho) is India's first-of-its-kind chain of advanced Physiotherapy and Rehabilitation clinics for providing comprehensive orthopaedic (aktivortho), neurological (aktivneuro), gynaecological (aktivwomen) and geriatric (aktivseniors) rehabilitative physical therapy, as well as for sports medicine, pain management, preventive healthcare, medical training therapy (MTT) and weight management solutions.
AktivHealth focuses on the non-invasive treatment and prevention of all types of acute and chronic musculoskeletal problems, neurological and associated disorders, and functional impairments.
With our state-of-the-art, German-designed rehabilitation equipment, modern medical technology, combined with our experienced team of specialized medical professionals led by Dr. Gerd Mueller, we are committed to providing our patients with European standard medical care, personalized one-to-one treatment and leading expertise in the field of non-surgical treatment.
Our unique approach – Combination of Active & Passive Therapy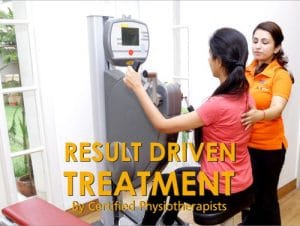 Today's modern, fast-paced lifestyle very often comes at the price of disharmony between body and mind. Whilst information and mental demands increase, the body is progressively neglected and under-utilized. Therefore, many people experience increasing back and neck pain, and other associated joint and muscle ailments. An inactive, deconditioned and untrained body is not able to meet the daily physical requirements of life. Furthermore, inactivity and body neglect increases the risk of incurring other health problems be it to heart and vascular, becoming overweight and or, potentially metabolic disorders, etc.
This inactive mindset also exists in the execution of therapy, where therapies provided by the therapist or the surgeon are passive and it is expected that this will fix the problem. Most of these therapies are useful, but they lack the – equally important – active element.
AktivHealth is proud to have introduced to India the active part of rehabilitative procedures for orthopedic and neurological treatment as is being widely and successfully used in the western countries. Active treatment requires active patient participation whilst at the same time addresses individual patient needs and limitations. This active approach is combined with other effective passive forms of treatments provided by us – professional physiotherapy, massage, electrotherapy, and other useful therapeutic modalities.
We offer medical training therapy (MTT) to people having certain limitations, needing proper guidance and who desire to increase their physical abilities – We have the right individualized solution for them, where our physiotherapist will train the individual one on one, helping to prevent recurrence or occurrence of back, neck and other orthopedic or neural problems. Our medical training is a lot more than going to a fitness club, as the individual tends to feel more secure working out in a medically supervised environment.
Why choose us
Multi – Specialist Team – We work collaboratively with leading Orthopaedic, Sports Medicine and Rehabilitation, Neurologists and Doctors of Physical Medicine, Physiotherapists, Orthotists and Nutritionists to provide the best patient care.
Evidence-based, Personalised Treatment Plan – Our Doctors and Physiotherapist are highly knowledgeable and skilled with a professional and caring approach to your treatment needs.
Effective & Timely Treatment – We discover and treat the root/source of our client problem. We understand that our clients are busy and want to reach their goals in a timely and effective manner and so device their treatment accordingly.
Advanced German Technology & Equipment – We have the latest German technology and machines to treat conditions like Arthritis, Sciatica, Slip Disc, Sports Injuries, and many others.
Holistic & Client-Centered Care – We offer our clients, personalized treatment and consider rehabilitation to be more than just pain resolution the ultimate goal is better and Aktivlife!
Your health is our No.1 priority
At AktivHealth, we help you reach your highest level of functional physical independence state –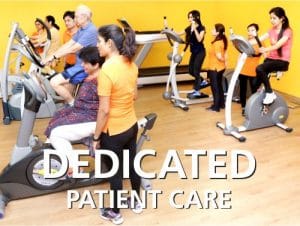 at work, in sports, and in your everyday life activities. It is our goal to help you actively improve your health and well-being through one-on-one treatment programs designed to address your needs all within a medically supervised environment supported by quality service, education, and research.
We believe that the treatment and recovery is a step-by-step process built on a foundation of trust and collaboration with our team, with you and your family. Our patient-centered model of care encourages active participation from you so that we can provide the very best care and results.
We offer treatment programs ranging from comprehensive rehabilitation to prevention to optimizing your performance in sports all with the goal of restoring and enhancing your physical abilities.