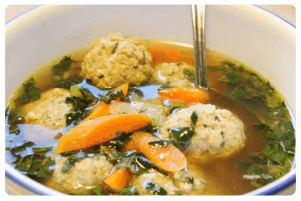 Chicken Meatballs Recipe
(By-Ms. Tirath Mehta)
Ingredients:
Boneless Chicken-250g
Ginger-2 inch pcs, Garlic-8-9 pcs(ground into fine paste)
Carrots, Broccoli, Button Mushrooms, and Beans (chop in 1 inch square)
Lemon grass-1 stalk
Lime leaves-2/3
Chicken Stock
Soya Sauce (use if in phase 3)
Method of preparation:
Grind the chicken with half of ginger and garlic in a mixer. Season with salt and pepper according to taste. Shape the same into meatballs (from 250g chicken we can get approx. 10-12 balls).
Steam these balls by putting them in a colander and place it over boiling water and cover the pan and allow the meatballs to cook for approx. 10 min.
Now, in a separate pot, add the remaining ginger-garlic paste, lime leaves, soya sauce (you may add it in phase 3), lemongrass and chicken stock and cook for 10 min. Season according to taste.
Add all the vegetables and cook for another 10 min. Add meatballs and cook for 5 more minutes.
The stew is ready to eat.