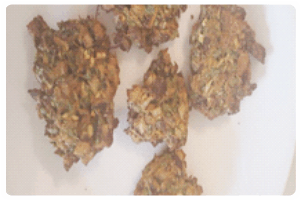 Mushroom Cutlets
Ingredients:
Oyster Mushrooms (Fresh or dried)- your amount
(If taking dried mushrooms, take 1/5th of the quantity recommended)
Vegetables (Carrots, capsicum, onion, cabbage or choose from your list)
Salt – to taste
Red chili powder- to taste
Garam Masala- 1/4th tsp
Amchur( Dried mango powder)- a pinch (optional)
Rye flour 25g or more according to your allowance
Water ( for soaking)
Oil- if on Phase 3
Method of Preparation:
Wash the mushrooms. In case using dried mushrooms, break them to small pieces and grind them.
Soak the powdered mushrooms and sieve/ strain them after 15-20 min.
Wash and chop the vegetables finely and put them in a pan. Allow to cook a little (without oil) till their water evaporates.
Put these vegetables into a bowl. Add the sieved mushroom. Add salt, spices, and 20gm of rye flour or a slice of rye bread for binding.
Mix well all the ingredients and make small patties/ cutlets.
Cook these patties in an oven or air fryer till brown or crisp.